Sihanoukville area, Cambodia
Posted by VaVa, 3/10/02 at 2:10:12 AM.
Hi from Phnom Penh. I have seen the future and all is well. I always fear the loss of my favorite beaches to the crowds of package tourists (eventually happens everywhere). But there is a new hippie beach starting in the area called Sihanoukville, Cambodia. It isn't in full swing, yet (may take a year or 2), But it has the most outside (fascinating) population of expats, I have seen in a long time, and the best choice of food on the entire beach circuit. They have sauerkraut there and French liver pate.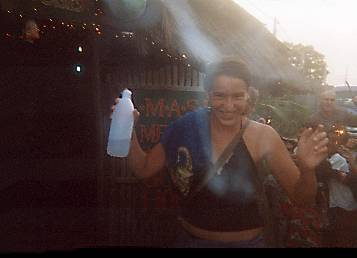 An intrepid English nomad in front of the MASH Guest House.
When they emptied the loonie bins, all of them went to Cambodia. I, of course mean that as a compliment. Usually I am about the craziest around, there I may well be the sanest. What's wrong with this picture?
US dollars are in wide use here. So you don't need or want to change currency for Cambodian rials. You will receive rials as change. The value around 3,900 to 1$ US. You will get them for change. A whole pocketful is only worth 2$ or 3$.
Bad news : There is a Cambodian law which prevents Thai-style beach bungalows being built on the beach front (1 exception, Chuck's, I'll write about later). Also, most of the weed I tried was the worst I've had in 20 years. They cook with cannabis, and that's about all most of it is good for. (Try the happy pizza.) When you request some, say that you don't want the cooking kind (sometimes this helps). This, I am sure will change soon, as more and more backpackers show up there.
The easiest way to get to Sihanoukville is to fly from Bangkok to Phnom Penh (1 hour 15 minutes) and take the bus (3 1/2 hours) to Sihanoukville. The cheapest flight is Royal Phnom Penh Air Lines. It cost me 5,700 Baht (roughly $130) round trip. The bus cost $3.10. If you are on a low budget, you can take a bus from Bangkok to Tret, Thailand, cross the boarder and take the speed boat to Sihanoukville, total cost around $30. That will take 2 days. Remember that a Cambodian visa costs $20. Check with Kwanjai at K.M. Travel on Khoasan Rd. near the Siam Hotel in Bangkok. She's always of great assistance.
The hippest place to stay is on the hill overlooking Victory Beach. Backpackers usually pass through here on the way from Thailand. My favorite lodging, there, is MASH Guest House. It is run by the leader of the pack, Tanya. It is famous for its Saturday night roast pork dinner; including vegetables, mashed potatoes with terrific gravy, and cauliflower with a wonderful cheese sauce. Thanks Tanya.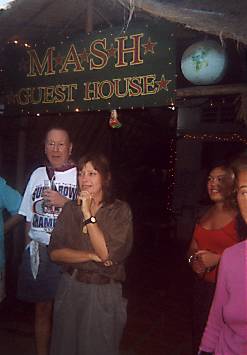 Tanya, The leader of the pack.
At he crossroad, about 30 meters from MASH, is Dominic's. He has good pasta and the only wood-fired pizza oven in the area. He is an Italian who lived in NYC for a while. On his wall is what may be the only NYC subway map in all of Cambodia. I find this highly significant, somehow. Not a long ride (motorcycle taxi), on the road to Liberty Beach, is Yin Yang, a German restaurant run by Max. He is a cool guy who has lots of good information and makes his own sauerkraut. It is a good place to meet expatriots.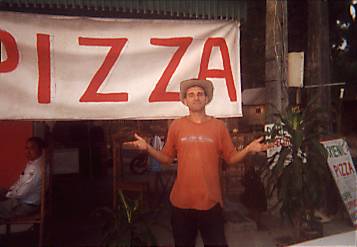 Dom, a genuine friend. I'll be back before the end of the year.
The one Thai-style beach accomadation is Chuck's, on Serendipity Beach. I met 'the' Chuck on my next to last night there. He is an American military retiree in his late 60's. He has a manager, so is a member of the Bums and Drifters Union. He hangs out with his smoke and beer. When I saw him he had a stunning young Cambodian girl sitting on his lap. I said, "Chuck, I want to be you when I grow up!" Next time I have to spend some time at his place.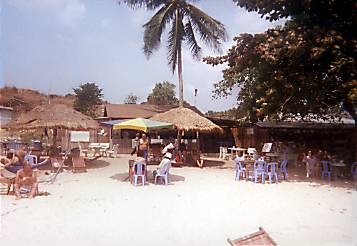 Chuck's at Serendipity Beach
Serendipity Beach