Kho Phangan, Thailand
Posted by VaVa, 8/15/99 at 10:00:37 AM.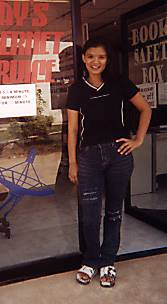 The delicate presence at the internet connection.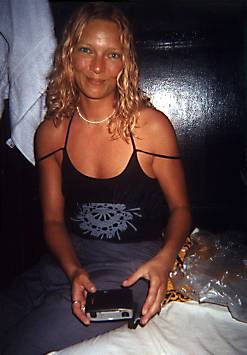 Lina, an aware and lovely friend. Too bad she eats the same part of a chicken as I do.
In the 80's, the place to hang in Thailand was Kho Samui, but, as often is the case, the word got out. Kho Samui now has its own airport and package tourists from all over Europe. It has become a honky-tonk zoo. If you want a loud, raucous party, go there. The rest of us have moved to the next island out, Kho Phangan. If and when Kho Phangan becomes too crowded, we'll move to the next island, Kho Tao.
I spent two months in Kho Phangan (Kho is the Thai word for island) last winter, and am dieing to return there. I love the place. It a wonderful beach with calm clear water. The usual group of back-packers throng the place, so there is lots of fascinating conversation to be had.
To get there from Bangkok, the easiest way is to fly Bangkok Air to Kho Samui (7 flights a day), a minibus to Big Buddha Beach, and a boat to Kho Phangan (40 minutes). The cheapest is bus or train to Surat Thani, then a long boat to Kho Phangan. For wonderful help, speak with Kwanjai at K.M. Travel on Khaosan Rd. (near Siam Hotel) in Bangkok. She will get you the lowest prices to or from anywhere.
One of the claims to fame of Kho Phangan is its full moon party (all night at Haad Rin Beach). Don't miss it! One suggestion, it can be quite difficult to find a room around the day of the full moon (everyone comes from all over Asia for the party), so try to get there at least 3 days before it. IMPORTANT NEW INFORMATION 28NOV01 This year I arrived 5 days before the full moon of November at around 5PM and all the rooms at Tommy's were taken. I had to find another room next door at Palita for the night. Now ,3 days before the full moon everything is full. MY ADVICE: Tommy's now has a phone (find the number below). Call for a reservation if you are coming within a week of the full moon plus or minus. (or get here 1 week before the full moon). Also, If, like me, you are not a techno music rave fan and do not love staying awake all night, it is probably not a good idea to stay in Haad Rinn on the night of the full moon. The bass vibrates the walls of my bungalow from 6PM to 1PM the following day. There are lots of beautiful, quiet beaches around the island.
1JAN02: If you want peace and quiet, do not come here around New Years.This is my first time here for the holiday. My bungalow has been vibrating to the Techno bass all night (I mean that literally). It is now 11:30 AM and still shaking. I wonder if it is ever going to stop. Senor Voom
9JAN02: Had a minor case of eye inflamation, and went to Kho Samui to see a doctor yesterday. I want to recommend him to you, in case you have the need. He is quite. That is quite sharp, speaks English quite well, quite an interesting character. He is Dr. Thavil Veerapradist, M.D., and is located on the second street back from the waterfront in Na Thon (the main town on Kho Samui). Tel. 077-420162. I hope you don't need him. Vava
There are lots of lovely beaches all around the island. My favorite is Haad Rin. For me it is exactly the right size for me. Not too crowded, but big enough to support a large variety of restaurants and several used book stores. I recommend the lodgings at Tommy's Resort. It is right on the beach, very economical, and secure. It has a good, cheap restaurant where you can watch video movies every night. Telephone 077 375 253. You'll have to figure out if you need long distance codes or anything like that. For more info go to http://kohphangan.yinyangandtaichichuan.org/phanganlinks.html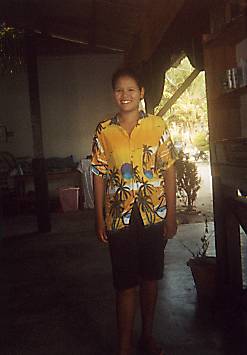 Pawn is like a mother to us all.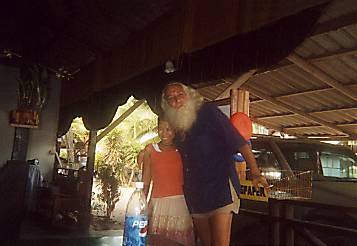 Pla, she said to say that she's my girlfriend. I could only wish.
Down the street away from Tommy's beach is an actual Mexican restaurant, THE BEST PLACE TO MEET INTERESTING PEOPLE, Brown Rice Restaurant (follow the yellow signs with the fist pointing a finger that you'll see all over the place.), run by a curmudgeon, American expatriot named Clint. Don't miss it or Clint, he is a real character and has lots of good advice (whether you need it or not). The food is great and a welcome change from Thai fried noodles. Sad to say (for me, maybe not for them) Clint and his wife Rung are now divorced, and he has departed for California. Rung is still running the restaurant and doing a fine job of it. Phone 077-375-329. Remember, beware, don't tip the curly-haired waiter!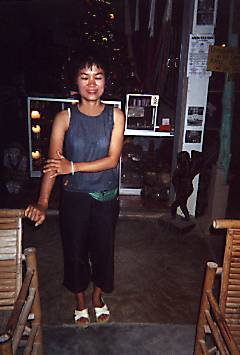 Rung, she a very special friend.
The easiest way to get there is to fly on Bangkok airways to Kho Samui (about 1 hour), take a minibus to Big Buddha beach, and a boat from there. It is much cheaper, of course, to take a bus from Bangkok to Surat Thani (on the mainland) (about 12 hours) and a ferry from there to Kho Samui (4 hours). Lots of tour operators in Bangkok will sell you the whole trip as a package.
Hope I see you there. Love Vava.
LOVE STRIKES THE GREAT VAVAVOOM ONCE AGAIN (OR MAYBE FOUR TIMES AGAIN!)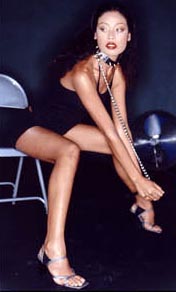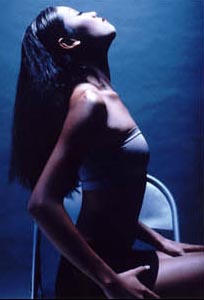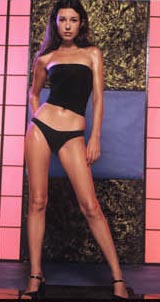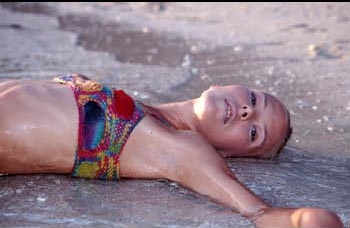 THANKS TO MY EXCELLENT GERMAN FRIEND MICHAEL KAMANN, WHO RESIDES IN BANGKOK. HE'S AN EXCELLENT PHOTOGRAPHER. IF YOU NEED HIS WORK, EMAIL ME. I WILL PROBABLY SEE HIM IN A FEW WEEKS (3 NOV 01)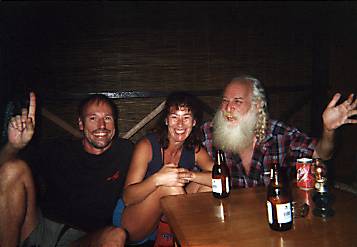 Jim and Juli, friends that I have known in Negril, Jamaica for 20 Years. I crossed paths with them at random, on Haad Rin Beach. Groovie!!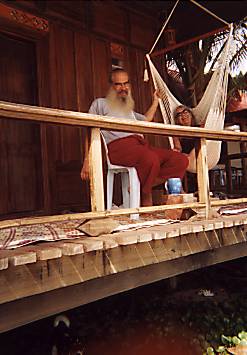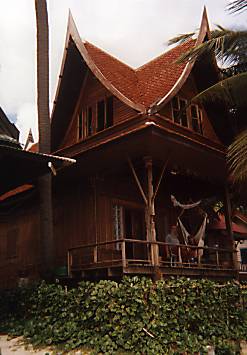 My fine old (not so very old)friends, Bill and Jane. This is their beautiful beach bungalow.
DOGS
One day in 1981, Dorothy and I were staying in a thatched hut at Lamai Beach on Kho Samui. Out of the window, we could see some guys cooking something, in the distance, on a spit over a fire. Being a natural spy, I went to check it out.
It was a beautiful suckling pig, all clean and stuffed with lemon grass. The guys said that if we brought a bottle of Mekong (Thai cheap whiskey), they would share the pork with us later on the beach.
I went back to the hut. Dorothy set herself up. Her eyes big, she said, "What is it?"
I couldn't resist the goof and said that it was a dog. She said, "Oh no!"
I didn't hold on to the goof. I told her the whole story.
Later, on the beach, eating the pork with the guys, I told them the story about goofing on Dot to entertain them. They didn't laugh. They didn't even smile. They said, "Dog is very good."
DOG 2
Every so often, I find myself in a place where they don't speak English, and I don't speak the local language. I end up using a kind of sign language. For example, if I want to eat chicken, I will go into a restaurant, flap my elbows like wings and make chicken noises. Try it. It works. Dot said that she lived in fear of the the day that they answer, "Woof,woof." I love that woman and miss her terribly. R.I.P. Dorothy.
MOVIE
Last winter I was walking down Haad Rin Beach in my bikini and stumbled upon a screen test for the movie THE BEACH with Leonardo De Caprio. So, having nothin better to do, I let them take my picture and filled out the form. At the bottom, under comments, I wrote, "If you want an aging Hippy traveler with bad teeth, I am your guy."
With all the young, firm beach people taking the screen test, I never figured that they would be interested in this white-haired 53 year old, but what the hell. Well, much to my surprise, in 5 days I got an email saying that they wanted me.
In the first scene, I am walking to the beach with a pretty, young British blond (among about 60 other people). The second scene was to be an all-night shoot, recreating the full moon party. I didn't feel like staying up all night, so I went to the assistant casting director and begged out. He proceeded to shame me. He said, " Ken, you are the only one the camera crew is talking about. They are grabbing your picture from all angles. We need you."
So I went. They took me to wardrobe and dressed me up funny in yellow, tie-dyed, draw-string pajama pants and a bright blue, shoulder-strap tee shirt cover with silver sparkles.Boy did I feel goofy!
While I was waiting for the shooting to start, he came over with pots of day-glo paint and proceeded to paint my beard and mustache yellow and orange. I said to him, "If our positions were reversed, would you let me paint your beard?"
He said, "Hell, no!"
Now I'm in trouble with the Tough Guys Union!
Anyway, when they were shooting the scene, I was lurking in the back watching everything. I have always been a lurker in the back. The camera director came up, grabbed me, and dragged me front, dead-center. The young actors, wanting to be the center of attention, elbowed me out of the way. (it was easy, I'm not very pushy and don't give much of a damn). The director dragged me to the center again and sent in the hand-held camera for a close-up of me. Take this as an affirmation, all you older folks, there still is a place for us in the world.
Go to see the movie when it comes out in December. I may not end up on the cutting room floor. Love Vava
P.S. I did end up on the cutting room floor. But that's the way my life runs. I can't complain. V